©1945 Paramount Pictures, Inc.
Renewed: EMK Division of Universal City Studios, Inc. All rights reserved
Catalog Number
21-001
Format
Standard Play CAV
Running Time
101 minutes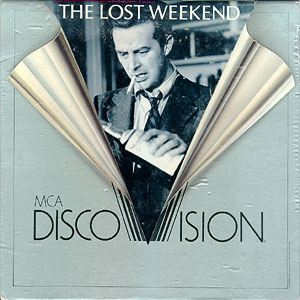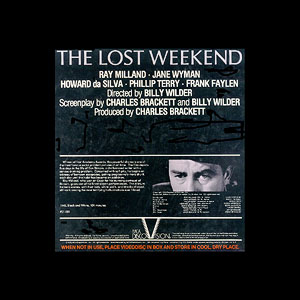 ---
Mono
Pressing Location
DiscoVision Carson
Label Color
Blue
Retail Price
$9.95
Issued
October 1979
Side
Frames
Running Time
1
34,279
23min 48sec
2
43,043
29min 53sec
3
37,046
25min 43sec
4
34,335
23min 50sec
148,703
103min 15sec
Ratings
Video Transfer
Audio Transfer
Replication
Packaging
Open-Top
Side-Open Sticker
Printed
Pressing Notes
The Lost Weekend, listed among the most rare of all DiscoVision, has possibly one of the sharpest DiscoVision transfers made. There are a few spots where the brightness and contrast are off a bit, but on the whole the image is crisp, sharp and contains amazing detail. The audio also receives very high marks which is never overdriven or tinny sounding. Of special note is the sequence where the telephone is ringing for several minutes. The bells are never harsh or bright as is found with many of the transfers.

Disc replication is about average for DiscoVision, with some copies looking very good and others, not so. The copy reviewed would be judged excellent except for a fleck of crap under the surface on side 2 which causes most players to hang or skip around. Side two is especially difficult due to its extreme running length.

Despite the presence of The Lost Weekend in the catalog through the October 1980 update, it is believed there were fewer than 200 copies which left the warehouse in Carson.
---
Release History
The Lost Weekend was issued as a 2 sided CLV disc from MCA/Universal Home Video (Catalog #: 21001) in April 1989.
---
MCA DiscoVision Home Page
---
Updated: November 5, 2016
Copyright ©2001 Blam Entertainment Group