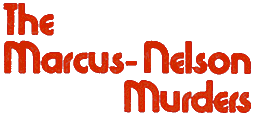 ©1973 Universal City Studios, Inc. All rights reserved.
Pressing ID
0915
Format
Standard Play CAV
Running Time
144 minutes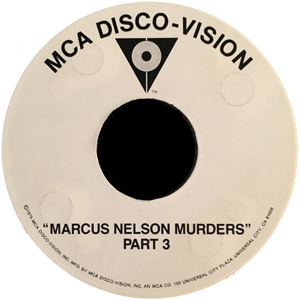 ---
Mono
Pressing Location
Torrence
Label Color
White
Manufactured
April 1977
Side
Frames
Running Time
1
41,395
28min 44sec
2
42,177
29min 17sec
3
42,101
29min 14sec
4
40,021
27min 47sec
5
40,837
28min 21sec
206,531
143min 25sec
Ratings
Video Transfer
Audio Transfer
Pressing Notes
This Disco-Vision test pressing is much like The Andromeda Strain, The Marcus-Nelson Murders has it's problems in the video transfer. The transfer is too green which just makes everything look off. Also present are the same over saturation problems which results in high-contrast ghosting. This causes loss of detail on any bright areas of the screen - for example, the panes of glass on a window. The audio transfer is not too bad overall but it is a bit harsh in some spots.

All five sides of this title are very long. The same side breaks were used on the production version of the title as are on this test pressing. I found the replication of these discs actually quite good. There are periods of single line dropouts and some minor speckling. This could be a result of the selective way the test pressings were assembled.
---
Updated: August 15, 1999
Copyright ©1999 Blam Entertainment Group