©1978 Universal City Studios, Inc. All rights reserved.
Catalog Number
16-016
Format
Extended Play CLV
MPAA Rating
Running Time
117 minutes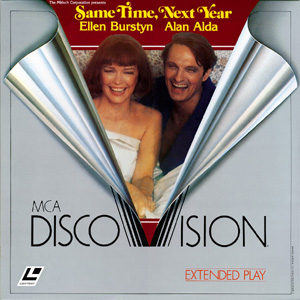 Cover mock-up
---
Mono
Pressing Location
DiscoVision Carson
Label Color
Red
Estimated Sides
3
Retail Price
$24.95
Pressing Notes
Same Time Next Year was included in the October 1980 Catalog update. It was not issued on LaserDisc for an additional 7 years.
---
Release History
Same Time Next Year was issued by MCA Home Video (Catalog #: 16016/ID5124) in August 1987 as a 3 sided CLV title. It was part of a group of titles licensed to Image Entertainment. Discs were pressed by Pioneer.
---
MCA DiscoVision Home Page
---
Updated: November 25, 2015/i>
Copyright ©1998 Blam Entertainment Group