Magnavision relays pictures from a videodisc to your TV set by laser beam. Complete with stereo sound.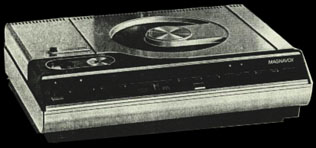 You already own half of the world's most advanced home entertainment system. A television receiver. As a matter of fact, you probably own more than half. A stereo system. The only thin missing is Magnavision. A video turntable that plays LP-like discs to produce pictures and stereo sound on your TV. Magnavision lets you enjoy a wide variety of programming. Such as hit movies. Stereo concerts. Intriguing documentaries. Even educational discs that enlist your active participation. And Magnavision lets you control what you watch with a wide variety of special effects by remote control. Magnavision. A LaserVision video disc player that can turn your TV and stereo into the most advanced home entertainment system in the the world.

What are the benefits of laser technology? First of all, the penetrating qualities of the laser allow Magnavision to use coated videodiscs that protect the actual programmed information - making the discs extremely durable and resistant to damage. For the same reason, surface scratches, dust and fingerprints cannot affect the audio or video quality of the disc. And because the laser never makes physical contact with the videodisc, there is no grove wear to affect disc quality - the way a needle stylus "wears" on an LP. And finally, it is the laser that easily permits the Magnavision's special performance features, such as stop action, frame-by-frame advance, variable slow motion in forward and reverse, picture search and fast forward.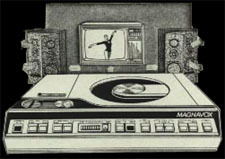 Amazing. Pictures and stereo sound. Magnavision even lets you enjoy high-fidelity stereo sound. Just connect it to your present stereo system and choose from one of the many stereo videodiscs of musicals, concerts and celebrity shows. You can't get stereo from video tape or from TV alone. But imagine. With Magnavision, you can enjoy spectacular stereo sound . . . only fitting for the most advanced home entertainment system in the world.

Studio-like controllability with Magnavision special effects. Not only can you watch and hear a variety of programming with Magnavision, but you can watch it any way you wish. Magnavision controls are so simple to operate even children can enjoy putting it through its many playing modes. Play fun cartoons in reverse. Or learn a golf swing by watching it performed frame-by-frame. It's up to you. But to further appreciate Magnavision's many special effects - playing modes available only on LaserVision players - read on.



Infrared Remote Control. Now, these special effects can be put through their paces . . . right from the comfort of your favorite easy chair. With no more effort than pushing a button, this infrared remote control gives you control of fast forward, normal play forward / reverse, slow motion, still forward / reverse (frame-by-frame advance), pause, picture search forward / reverse, plus audio buttons that control Magnavision's two channels of sound.

Magnavision. First with Picture Search. Run through videodisc pictures quickly by pressing search forward or search reverse buttons. The search ode lets you scan an entire disc in approximately 26 seconds.



Magnavision. First with Stop Action. To see videodisc pictures frame-by-frame, press Still Picture control for forward or reverse. Ideal for studying complicated action in sports or educational shows.*

Magnavision. First with Slow Motion. Slow up the picture in either forward or reverse by preassign the Slow Motion Forward or Slow Motion Reverse button. This special control allows for speed variations ranging from one frame every four seconds to nearly normal speed.*



Magnavision. First with Fast Forward. Another Magnavox innovation. The picture moves at three times normal speed by pressing and holding the Fast Forward button. Release the button and the picture stops. A useful mode when searching for certain sections on the videodisc.*

Index. Each of the thousands of pictures on a standard play videodisc carries a number which can be displayed on the TV screen by pressing the index button. Extended play videodiscs can show "elapsed time" by the same method. If a program on either standard or extended play discs has more than one segment - which is called a chapter - the chapter number can also be displayed. This is extremely useful for locating individual frames for playback.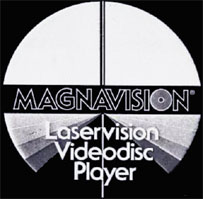 Magnavision Specifications Model VH-8005
System
Compliance with Philips-MCA specifications
Playing time (maximum)
Standard videodisc (CAV): 30 minutes/side
Extended videodisc (CLV): 60 minutes/side
Spindle revolutions
Standard videodisc: 1800 rpm
Extended videodisc: 1800 rpm (inner circumference) to 600 rpm (outer circumference)
Line voltage: 120 VAC
Line frequency: 60Hz
Power Consumption: 65 watts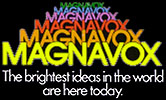 Video Characteristics
Horizontal lines of resolution: 330
Signal to noise ratio - more than 42dB
Video output impedance: 1 volt, 75 ohms
RF Output: 2.4mV, VHF channel 3 or 4, 300 ohms

Audio
Frequency Response (-3dB): 40 Hz to 20 kHz
Channel crosstalk (1kHz at 100% mod): 55dB
Audio output: 620mV, 1500 ohms, 2 channels
Signal to Noise Ratio: more than 55dB


Choose from an ever-growing library of entertaining, exciting and educational videodiscs. From such major motion picture companies as:
MCA Videodisc, Inc.
Columbia
Paramount
Magnetic Video (20th Century Fox)
and
Optical Programming Associates - dedicated to producing creative and educational albums for the LaserVision format. Each disc is designed to make full use of the entire realm of special effects offered only by LaserVision videodisc players. Discs such as Jazzercise, The First National Kidisc,

How to Watch Pro Football and The Master Cooking Course allow Magnavision owners creative alternatives to passive viewing, but enlisting active participation in the viewing and learning process.

All specifications subject to change without notice
* Features incorporated in standard videodiscs (CAV) only
©1981 N.A.P Consumer Electronics Corp