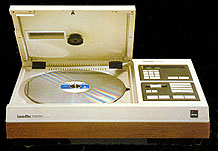 The future - now!
Someday, television would entertain and enlighten the world. At least that was the promise it made when it, and we, were young.
Someday. Just you wait and see.
While we waited we were entertained. Sort of. And enlightened. Sometimes. But mostly we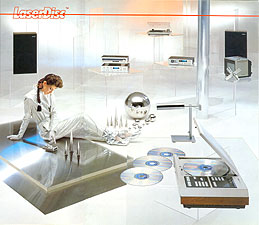 were just enslaved. Freedom from mass-communication, common-denominator video programming was still a thing of the future.
Some people now think that the future is "just around the corner." We've got news for them. Pioneer's exciting LaserDisc home video system has already turned that corner and is far, far down the block.
Our VP-1000 LaserDisc Players are on the market and being sold as fast as we can manufacture them. Video recordings, including MCA DiscoVision records, with up to two hours each of broadcast-clear pictures and stereophonic sound are in the stores and moving like proverbial hotcakes. There are already enough different titles to keep you watching for a full month, 8 hours a day. And with the world's top entertainment, educational and cultural institutions solidly behind LaserDisc as their tool of audio/video communications of the future, that programming is growing even faster than the demand - a very nice situation for the consumer, for a change.
The system, by the way, is the first to put laser hardware of any kind directly in the hands of the consumer. Its technological and practical capabilities, including that of storing up to 54,000 separate video "frames" on one side of one LaserDisc record and letting you view them one at a time if you wish, are truly incredible.
Someday LaserDisc will become . . . well, let's not go into that here. Suffice it to say that, thanks to what this remarkable system can already do, the future of total audio/video home programming has arrived here and now!

The player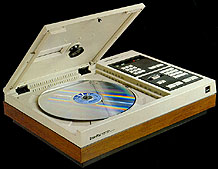 If the capabilities of the Pioneer VP-1000 LaserDisc Player are straight out of science fiction, its looks are not. It resembles nothing more than an ordinary phonograph turntable with a few modifications here and there. But three essential differences make it something else entirely. First, it has no "needle" to grind away at the record. Instead it uses a low-power laser beam to pick up encoded information from the LaserDisc record for translation to pictures and sound. As we will explain, this "non-contact" system causes absolutely no wear on disc or player. Then, the Pioneer VP-1000's platter speed is over 50 times faster than the 33⅓ rpm of an ordinary phonograph - a smooth and silent 1800 rpm for standard hour-play (total) LaserDisc records. Finally, Pioneer has included an array of microcomputer controls to permit program search and display functions no ordinary phono turntable could begin to offer. Actually, the remarkable VP-1000 is a product of state-of-the-art science fact, not fiction. And that's just the beginning.

How it works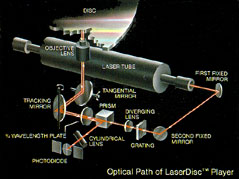 To understand how the Pioneer VP-1000 LaserDisc Player works, you should first know a little about the LaserDisc records themselves. Program information is stored in billions of microscopic indentations etched beneath the surface. A layer (1.1mm) of acrylic protects them from dust and fingerprints (making LaserDisc records even easier to handle than ordinary phonograph records.)
Though you can't see it, the information is arranged in circular tracks, 54,000 of them, each constituting a separate video "frame" for continuous or individual display. The indentations and the reflective surface of the LaserDisc record produce an unusual "rainbow" effect when viewed in ordinary light. But when exposed to the tightly-focused light beam (0.001mm dia.) of the low-power laser pickup on the VP-1000, they reflect high-density audio/video signals for reproduction. The illustration [on the left] shows how the laser beam and disc interact in the Pioneer LaserDisc Player.


LaserDisc programming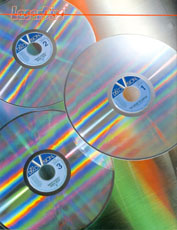 Which comes first, the player or the disc? In the case of LaserDisc, Pioneer has already answered the chicken-and-egg riddle in a positive and practical way. We are happy to say that even before our VP-1000 LaserDisc Player went on sale in America, a large and varied catalog of program "software" was prepared for immediate availability. And thanks to the unprecedented direct participation on the part of Pioneer in various joint ventures with entertainment-industry leaders like MCA and others, LaserDisc-player compatible programming will continue to grow steadily in all popular categories.
The currently-available catalog is far too long to repeat her in full, but these are some of the exciting categories and examples of titles:

Feature and Classic Feature Films
Enjoy the Marx Brothers in their classic "Animal Crackers" or "Animal House" by the National Lampoon and other even more current full-length motion pictures in hour home at a fraction of the cost of cinema tickets for you and the kids. (All this without waiting in line and definitely without TV commercials!) Movies alone are approaching 100 at this writing.

Walt Disney Productions and Television Movies
Examples here range from the full-length "Kidnapped" to the Hardy Boys in "Mystery of the Haunted House." Fun for the entire family, as often as you like.

Non-Feature Films
If Julia Child's mouth-watering cooking demonstrations (complete with step-by-step recipes) don't make you a master chef on first viewing, just program your VP-1000 to play them again and again (You may also use the microcomputer controls to "freeze" a given frame or go over a certain portion in slow motion.) The same goes for Gene Littler's golf lesson and the other interesting, informative records in this category.

Informational / Education / Self-Improvement
Dozens of titles in these categories "show and tell" all you ever wanted to learn of "The Undersea World of Jacques Cousteau," "How to Stop Smoking," "The Solar System / The Universe" and much more. With the Pioneer VP-1000 and a modest library of inexpensive discs like these, your home becomes a university.

Spectator Sports
Special programs put you in the ring with Ali, Louis, Marciano. On the gridiron with NFL superstars. Atop the world's highest mountains or down their slopes with veteran alpinists and Olympic-class skiers as your guides. Adventure unlimited - from your favorite armchair.

The Arts
Imagine a stroll through the National Gallery with the Curator himself to brief you on the "Art Awareness Collection." Or enter still another level of awareness with discs of live rock, pop, jazz and classical concerts staged just for you. Elton John, ABBA, Loretta Lynn, Olivia Newton-John - the list goes on and on.

Every day, new applications for LaserDisc "software" are being brought to reality. Trying to calculate all the future possibilities would be like trying to determine all that you could learn and enjoy through powers of sight and hearing. As we said at the outset, the world's top entertainment, educational and cultural institutions are already solidly behind the LaserDisc as their tool of audio/video communication. This happy situation assures the continuing expansion of the large catalog of programs already available through your Pioneer LaserDisc retailer - right now.

Features and functions
No videodisc equipment is more versatile or easier to operate than the Pioneer VP-1000 LaserDisc Player. Put on a LaserDisc record, close the cover and push the PLAY button. When the picture appears on the TV screen, select the desired mode on the electronic pushbuttons. (The same controls with the exception of variable SLOW SPEED are found on the optional RU-1000 remote control unit.) Here is a summary of the various handy control functions:

Play and Pause
Playback of LaserDisc records is begun when you touch the PLAY button, interrupted when you touch the PAUSE. Nearly all of the many LaserDisc-compatible records now available are of the CAV (Constant Angular Velocity)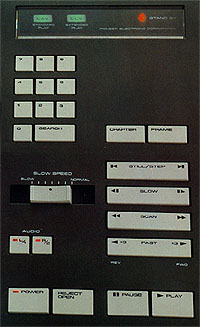 type with up to 30 minutes playing time per side and the added conveniences of Still-Frame "freeze" and the Random-Access functions described below. But the Pioneer VP-1000 also lets you see CLV (Constant Linear Velocity) LaserDisc records with the extended-play time of up to 60 minutes per side.

Fast x3
Normal video playback of CAV discs can be speeded up three times in both forward and reverse modes. This feature enables you to review a section of the program quickly without losing track of the flow of its "plot."

Scan
Another special feature provides super-fast video playback of CAV and CLV discs alike. Use it for high-speed search / review of an entire program, or to rapidly skip over parts you don't wish to view.

Slow
Also easy to achieve in either direction on CAV LaserDisc records. The rate of motion is variable from the normal 30 frames per second to as slow as a single frame every 5 seconds. The uses of this special function are limitless.

Audio
A LaserDisc record can have two soundtrack channels. You select stereophonic playback by pushing both buttons under AUDIO. Or, push the L/1 or R/2 button individually to hear the left and right channels respectively, which on certain LaserDisc programs contain the monophonic soundtrack in two different languages. (Audio portions are not heard during Fast, Slow or Still-Frame play.)

Still-Frame "Freeze"
CAV records can be viewed one frame at a time when you use the STILL/STEP control for in-depth study of fast action or complicated subject matter. This "freeze" function can be sued in either direction, with the image changing each time you push the control. Because LaserDisc playback is the "non-contact" type, no wear whatsoever can occur during still/step viewing.

Random-Access Search/Display
It's built-in microcomputer gives the Pioneer VP-1000 some very sophisticated special functions for use with programming software of the CAV type encoded with frame and chapter numbers. Best of all, these functions are available through complete "Random Access" - meaning they can be selected in any order at any time with the light touch of a pushbutton. They include:




Frame Display
Each of the up to 54,000 frames on each side of a CAV LaserDisc record can be encoded with a number. With the calculator-like buttons on the VP-1000, any individual frame can be displayed on your screen.




Chapter Display
Code numbers are also assigned to the different "chapters" of a program on some CAV LaserDisc records. They help divide contents into major sub-sections for easier access by the viewer.




Rapid Frame/Chapter Search
Again, because the LaserDisc is a "non-contact" system, the laser pickup is free to scan the disc at random, guided not by the physical "grooves" or tape-running index numbers but instead by the microcomputer's internal position sensors. The frame or chapter number you enter on the digital keys is instantly displayed on the screen, then the laser searches for the spot you want to see. All this takes place faster than you can say, "Pioneer's VP-1000 is a marvelous machine indeed!"

The total system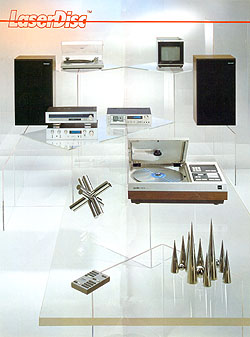 Connect one simple wire to your TV set, plug in the VP-1000 and you're ready for LaserDisc viewing. The audio portion of the program will be reproduced in monophonic through your television's speaker system with as good or better fidelity than standard telecast sound.
But we remind you that LaserDisc is a stereophonic system as well. Two more connections - also simple jack plugs - and you've interfaced the VP-1000 audio output with your home stereo hi-fi. An additional benefit is found in dual-track bilingual reproduction of certain programs.
Naturally, the Pioneer VP-1000 LaserDisc Player can be used with any quality projection-TV equipment. T h extremely high-density image resolution of LaserDisc - unlike that of home video tape units - ensures a crisp, clear picture with high contrast and vivid colors. This means you'll miss nothing when you project your favorite LaserDisc programs even larger than life-size on wide-screen projection TV.
As you can clearly see, the Pioneer LaserDisc is part of a total home entertainment concept with exciting possibilities. But perhaps the most exciting thing of all is that those possibilities are not merely promised for tomorrow, but are available to you today. With Pioneer's remarkable LaserDisc, the future is now!
Specifications
General
System and disc specs: Compliance with Philips-MCA specifications
Maximum playing time:
Standard videodisc (CAV): 30 minutes/side
Extended videodisc (CLV): 60 minutes/side
Spindle motor revolutions
Standard videodisc: 1800 rpm
Extended videodisc: 1800 rpm (inner circumference) to 600 rpm (outer circumference)
Laser: 6328 angstrom, He-Ne 1mW

Video Characteristics
Video response: NTSC specification
Video Output
Level: 1 Vp-p nominal sync. negative terminated
Impedance: 75 ohms unbalanced
Terminal: F type jack
Signal to noise ratio: more than 42dB
VHF output
Channel: 3 or 4 (switchable)
Level: more than 60dBµ (complies with FCC specifications)
Impedance: 75 ohms unbalanced
Terminal: f type jack

Audio Characteristics
Audio output: Two channels; stereo or two individual channels
Level: 650mV nominal (1kHz 100% mod. 50k ohms terminated)
Impedance: Less than 2.2k ohms unbalanced
Terminal: Stereo pinjacks
Total harmonic distortion: Less than 0.3%
Signal to Noise Ratio: more than 55dB (1kHz 100% mod. using IHF A network for weighing)
Frequency Response: 40 Hz to 20 kHz (±3dB reference to 1kHz 10% mod.)

Functions
Play: Normal Play mode with sound
Pause
Fast x3: Forward and Reverse
Scan: Forward and Reverse (Scan time 90mm travel less than 30 seconds)
Slow: Forward and Reverse (Variable Speed control)
Still/Step: Still picture: step forward and reverse
Frame Number Display: On/Off
Elapsed Time Display: On/Off (Extended videodisc)
Chapter Number Display: On/Off (on discs encoded with chapters)
Search: Frame Numbers search (15 seconds)
Search: Chapter Number Search (15 seconds)
Auto Repeat
Chapter Stop: Stop motion at the change of chapter (On CAV discs encoded with chapters)
Picture Stop: Special CAV discs only
Remote control: Infrared wireless remote control / wired remote control (optional equipment)

Other
Power requirements: AC 120 V 60Hz
Power Consumption: 95 watts
Dimensions (W x H x D): 2111⁄16 x 55⁄8 x 157⁄8 in. (550 x 142 x 405 mm)
Net weight (without package): 38.6 lbs (17.5 kg)
Gross Weight (with package): 45.2 lbs (20.5 kg)


Specifications and design subject to possible modification without notice.



Pioneer Electronic Corporation
4-1, Meguro 1-chrome, Meguro-ku, Tokyo 153, Japan
U.S. Pioneer Electronics Corp.
85 Oxford Drive, Moonachie, New Jersey 07074, U.S.A.
KL-10-80
©1980 Pioneer Electronic Corporation