Digital Audio Disc Corp
Sony - USA
| | |
| --- | --- |
| Location | Terre Haute, IN USA |
| Operational Status | LaserDisc Replication Off-Line |
DADC/Sony currently presses nearly all the Columbia TriStar Home Video catalog, along with about one-half of the Warner Home Video catalog. The plant became THX® certified in 1996 and the first release was the $70 adventure from George Lucas and Ron Howard, Willow. Due to the increased demands for Dolby Digital titles in the industry, DADC has added an AC-3 encoder to their line up and now offers Dolby Digital encoded titles.
The facility has been rather prone to speckle defects as is event on a majority of titles. It is odd to note that some discs which look mearly passable look much better when viewed several weeks later. This would lead one to believe that the discs have a "cure" period inwhich the disc is susceptable to environmental change. This may account for the aleged LaserRot problem which seems to be plaguing discs from DADC. Such discs as Four Weddings and a Funeral, Disclosure and The War of the Roses are among titles some claim to have seen rot. Personal copies of the latter two titles remain uneffected in my personal library.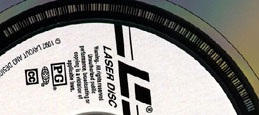 Mint marks are easily identified on DADC/Sony USA discs as seen in these two examples, taken from the Columbia TriStar release "A League of Their Own". These mint markings changed based on the material encoded on the disc.
| | |
| --- | --- |
| LDVS | Standard PCM Digital Audio |
| LDAC | Dolby Digital Audio |
| LDTX | THX Certified |
| LDTA | THX Certified Dolby Digital |
In the fall of 1998, Sony terminated all LaserDisc replication and mastering services in the United States.
---
Last Updated: May 24, 1999
Copyright ©1999 Blam Entertainment Group