| | |
| --- | --- |
| Location | Japan |
| Operational Status | Off-Line |
Kuraray is a large Japanese corporation whose main products are Chemical and synthetic fibers, Chemical products and Man-made leather, nonwoven fabrics and fastening materials. LaserDisc manufacturing was added to their offerings in the late 80s, pressing titles in the Japanese market. The first use on a US domestic release came around 1990.
Image Entertainment began using Kuraray some time around 1990 to supplement their list of LaserDisc manufactuers, starting on smaller run titles. This was likely a cost savings move more than a move to ease their reliance on Pioneer, Technidisc and 3M. During this same period, they also began to utilize Mitsubishi for disc replication as well. The quality has almost always been extraordinary, with very few inclusion occurances and no random single line drop-outs. However, they have had their odd little drawbacks. The 1990 Widescreen issue of FoxVideo's "The Towering Inferno" turned in horrible defect problems ranging from advanced speckling to excessive cone-warping.
Kuraray took a giant leap forward in disc replication by having their facility certified by the THX LaserDisc program, the 3rd facility to receive this certification. It is believed their first THX title was Fox Video's 1993 release of "Rising Sun". They began pressing Dolby Digital titles mastered by Pioneer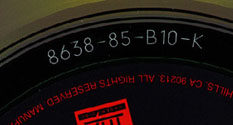 Japan in November 1995 with the Disney release of "The Santa Clause". They also pressed the THX Dolby Digital edition of "Die Hard 2" which was released in December 1995 by Fox Video. 1996 saw the release of the first Kuraray mastered Dolby Digital title, "Video Essentials", the followup to Joe Kane's wonderful "A Video Standard". Since its release in July 1996, all Dolby Digital discs pressed by Kuraray have also been mastered by Kuraray. With this added capacity, Image increased its already steady use of Kuraray's facilities even further.
Kuraray also became the chosen manufacturer of DTS encoded LaserDiscs released through Image Entertainment. Like Dolby Digital, DTS provides 5.1 channels of discrete audio, but it uses both digital audio channels instead of a modulated analog channel. Image Entertainment chose Kuraray as the best manufacturer in the marketplace and had nearly all titles produced at this facility. Notable exceptions were Universal's 1997 hit The Lost World: Jurassic Park, New Line's Shine, Artisan's Stargate and Paramount's Titanic.
Beginning in late 1997, Kuraray also began exporting the raw plastics for their LaserDiscs to Pioneer Video Manufacturing. As a result, the discs Pioneer began producing experienced an upswing in their overall finished quality. This does appear to have a downside however. While Kuraray discs are very high in quality, the plastics seem to be a bit softer than those from other manufacturers. This results in discs which are more susceptable to fine surface scratches. While these scratches do not deter the picture quality, they are still bothersome.
From their introduction, Kuraray discs have displayed a unique mint marking which easily identifies their discs from other manufacturers. An example of their markings are shown here, with this sample from the original issue of FoxVideo's "Speed". They are also the only disc manufacturer which has not experienced a total failure of their product. This phenomenon, known as "LaserRot" has effected nearly every disc manufacturer from the beginning of the format.
Kuraray terminated LaserDisc replication in 2000.
---
Updated: November 16, 2013
Copyright ©1997 Blam Entertainment Group