Introduction set for year-end in test markets; library of 200-300 [titles] is expected

MCA and Philips Corp continue to gear up for the domestic introduction late this year of their video-disc system, but both companies are keeping quiet about many of their specific plans.

The joint "Disco-Vision" marketing arrangement, in which MCA is to supply the program discs and Philips the player, is set to kick off gradually in a few unnamed text markets. An official announcement is to be made 30 days before the project is launched, but the companies are now downplaying the Christmas buying season as a factor in their timing.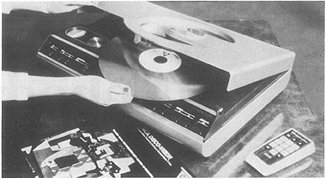 The player will bear the label of and be distributed by Magnavox, a Philips subsidiary, and is to sell in the $500 range, according to Norman Glenn, senior vice president of programs and marketing for MCA. Mr. Glenn said he plans to have a library of 200-300 [titles] available, about half of them carrying feature films and the rest various how-to, educational and cultural subjects. Film titles include earlier classics such as "Frankenstein," "Dracula" and Charlie Chaplin's comedies, and such recent hits as "Jaws," "The Sting." "American Graffiti," "Slapshot" and "Animal House." Besides MCA/Universal titles, Mr. Glenn said other companies, including publishing houses, will also supply product.

Feature films are to sell for about $15, while other programs such as Julia Child cooking lessons, National Football League games and Jacques Cousteau documentaries will go for $6-$10, Mr. Glenn said, with opera and other programs of more limited appeal selling at slightly higher prices.

MCA and Philips will not reveal the number of players to be made available in the regional test markets, although some reports indicate 20,000 or so. Presumably the readings of consumer preferences gained in those markets will be as important to the project as immediate sales. "When you face a long-term market development," said Philips Vice President Robert T. Cavanaugh, "you do it very carefully."

Indeed, the Disco-Vision system was first demonstrated at least six years ago, and some sources familiar with the history of it and other disc systems say they'll believe a marketing announcement when they see product in the stores.

Because of the caution being exercised in Disco-Vision's introduction, Mr. Cavanaugh declines to give sales projections. He did say that when the disc market reaches "maturity," it is hoped that one disc player will be sold for every three color TV sets sold. He wouldn't venture a guess as to when maturity will be reached.

The players are to be manufactured by Magnavox in Tennessee, the discs by MCA near Los Angeles. Mr. Cavanaugh said "there will be no problem in plant capacity if it takes off," a happy problem that plagued consumer video-tape recorders last Christmas.